About Us - Auto Locksmiths Northamptonshire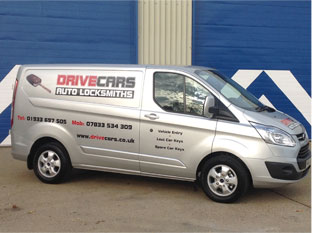 Drivecars is your one stop shop for all vehicle key requirements and provides a quicker and cheaper service than the Main Dealers. A main dealer can of course make and supply a new key for you providing your car has not had any changes from when it was supplied new, they will typically be a little more expensive than we are and are limited to providing genuine only keys. Not to mention you will need to get your car transported to them and it will take typically from 7 to 10 days for them to do fix the problem.
Fortunately, with the right equipment and training, new keys can be produced. A security code is often required to programme new keys and this is normally provided with the car when new or obtainable from the main dealer, it can also usually be calculated by our equipment which saves time and money.
At Drivecars we offer a convenient mobile service which can normally be completed in one day, so you are back on the road quicker. All of our friendly team are fully qualified mobile locksmiths, and carry out work in a fast and efficient manner.
Also many used cars are supplied with just one key which can be very annoying. We always advise getting a spare made as soon as possible to avoid future problems if a key is lost damaged or stolen. Car keys are statistically the most lost item in a household.
Drivecars auto locksmiths also operate a 24/7 service for your emergency locksmith requirements.
For more information or to see how we can help, call us on 01933 697505 or 07833 534309
We provide a high quality professional service and can resolve all aspects of car/van key problems including:
Vehicle Entry 
Damage Free
Non destructive 
Lockpicking
Replacement Keys
Basic Spares
Fully remote electronic keys
Available at the roadside
Additional Keys
Basic Spares & Fully remote electronic keys
Key Cutting 
Key Cloning
Key Programming
Key deleting
Lock decoding
Pin code extraction